Ghost of Christmas Past: "I am here for your welfare, Ebenezer."
Scrooge: "My welfare? To be awakened by a ghost at one o'clock in the morning is hardly conducive to my welfare!"
(From the 1970 musical "Scrooge," starring Albert Finney)
We actually celebrated Christmas with my in-laws on Sunday, two days early. This year the usual December 25 date didn't fit everyone's plan, so we just rescheduled it. I love the concept. Kind of like a giant TiVo.
There was a half-hour of caroling at the church before the service last night. Someone in the congregation would shout the name of a favorite carol and that's what would be played and sung. I wanted to hold a cigarette lighter over my head and yell, "Layla!" but I don't think they would have gotten it, or appreciated it if they did.
Cookies matter at Christmas, of course, and this year's gingerbread men seemed to work out. There were the classic gingerbread men:
From the "Great Artists" series (left to right: Van Gogh, Picasso, and Toulous Lautrec)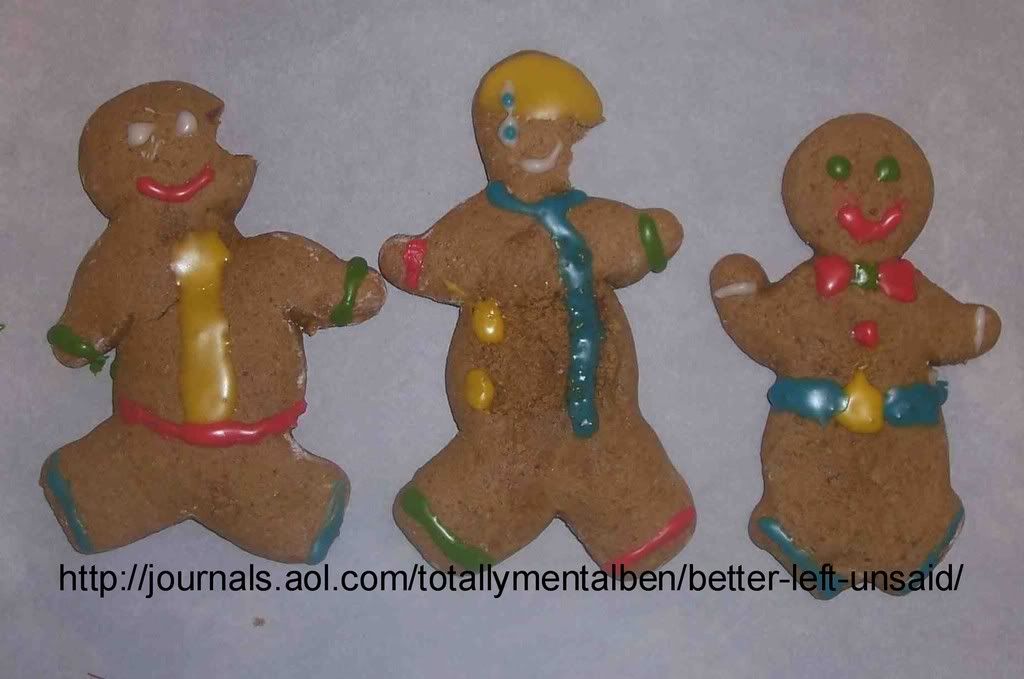 The "You've Got Mail" gingerbread man:
And the "CSI - North Pole" gingerbread man:
Overall it's been quite a year. Every year, for everyone, has its large events, pleasant and not, and this year herehasn't been so different except it's been more like three years worth of it all.

It was the year I lost my father, and my cat. It was the year I learned the course I've taught for 14 years is probably being phased out after this school year.
It was also the year my father finally got peace from a brave, difficult battle that went on for years. The year my cat's long, healthy life ended with a short illness and minimal suffering. And the year I'm getting the opportunity to take on new challenges after successfully handling the same one for 14 years. It's all in the interpretation, and how I end up remembering it is up to me. That's a valuable lesson I learned from one of my favorite people.

A big first yesterday morning. Sitting right here typing, for the first time the cats came up into my lap. Lily came up first and then Willie, seeing the attention Lily was getting and being a true petting gourmond, followed. It's their first holiday in an environment they're just now getting used to. At first they just kind of stared at the tree with cautious reverence, like the 2001 apes looking at the monolith except without the weird music. After that phase came the delighted recognition that a tree that blooms cat toys grew right there in the living room. Lily's the smaller of the two, and can climb nearly to the top of the Christmas tree effortlessly. I probably should tell her not to but it's just beautiful to watch. Willie has started to get up that high too, though not quite as gracefully. When he pushes off with his back legs to jump out, the tree almost looks like it's coming down. The tree started out nice but keeping it that way quickly became hopeless. I really don't mind. So far they've left the other decorations in the house alone. I take all of this to be a good sign for the coming year.
Best wishes to all for a great Christmas and a great New Year. As for me, I have to check the date of the Super Bowl. If I'm busy that day I want to make sure the NFL has enough time to reschedule it.